Stadium in Brasilia has cost US$ 900 million and should be impeccable,
Mané Garrincha is satisfactory when it comes to maintenance, greatness and beauty, but fails in functionality for the press and volunteers training
iG Minas Gerais | Felipe Ribeiro and Guilherme Guimarães |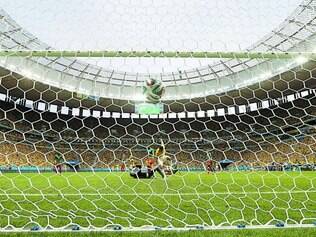 In a stadium that cost around US$ 900 million, nothing was supposed to be missing. But it does. In general, Mané Garrincha passes the test, having good structure to receive the public. However, with the exorbitant value of its construction, it should be impeccable, flawless, specially when it comes to the operational system.
Stage for World Cup games, it draws attention because of its greatness. The last rows of bleachers are too high and inclined, and that causes an impression of greatness and may even generate fear. Its cover, the two screens and the red seats tie up the last stitches for the beauty of the arena.
The care with the maintenance of the place is also a highlighted point. Halls, stairs, lifters and toilets are in an excellent conservation and cleanliness state. The finishing of the internal accesses, however, is a lot behind, with wires and plumbing uncovered.
The most critical aspects are related to those who must work in the stadium. Functionality for the press is almost null with its big distances that must be run in little time. Besides, the volunteers, in their majority, are poorly trained.
In the end, Mané Garrincha passes the test but, if it was "son" of strict parents, would get some clips round the ear to correct the mistakes.
Praises to Neymar
Second highest scorer of the Cup with three goals, German forward Thomas Müller (photo) covered young Neymar with his praises. The Brazilian player overcame the German forward last Monday (23) at the highest scorers list and is now leader with four goals. "Neymar is an excellent player, dynamic, he is eager for goals", said Müller on an interview this Tuesday (24). But he joked when he compared himself to the Brazilian and said: "people say I'm uncomparable".
Doubtless
Dutch winger Dirk Kuyt asserted, this Tuesday (24) that the three consecutive victories at the World Cup give confidence to the national squad's players and said also that the system used is correct. "After we won 5-1 over world champion Spain, and won over Chile, hyped in this championship, I think we mustn't convince anyone else", said Kuyt.
Damn it, Spain!
After a campaign way lower than the expected, the Spanish squad overcame the scare of a lightning hit the plane in which they were flying home. Iberia's aircraft was hit this Tuesday on its way down to Madrid airport. The landing, though, occurred without any further problems.