Short preparation period is one of the causes for English shame
To Roy Hodgson, English would have been short of a little luck and also of a larger training schedule for the championship
iG Minas Gerais | Josias Pereira |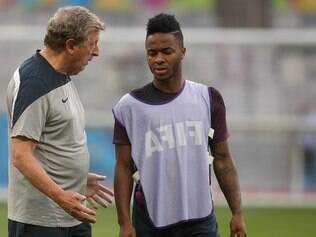 This hasn't been exactly the World Cup the English supporters have been waiting for. Put in a group called the "Death" one, the English Team ended up eliminated right at first phase. They disputed three matches, and got two defeats, one draw, two goals scored and four suffered. Despite the melancholy shown in the last game, playing with Costa Rica in Mineirão stadium, coach Roy Hodgson avoided telling names to blame. To the commander, his team lacked some luck and also a more extensive preparation for the championship - which, by the way, isn't won by England since 1966.
"We can point out hundreds of reasons (for the elimination). The Costa Ricans have been together for months now. They've had good chances to do the kind of work we only had three or four weeks for", declared the coach.
Seen as one of the biggest football centres in the world, England has been suffering in the last decades from a players scarcity. Despite visualizing a much more promising future, Hodgson has admitted the difficulties the FA (Football Association) has in relating to the teams, mainly in what concerns players liberation for the competition.
"We have worked very hard the way our teams play. The Association is working on this point, but we are never going to have access to our players the way other national squads do", he noted.
The pressure over the English squad's quality was another issue brought up by Hodgson in his last press conference in the World Cup. According to the coach, only winning is not enough.
"If we are talking about Iran on the field and they only give hard kicks forward, abuse the counter-attacks and the free kicks, everybody say they are doing an excellent work. But, for us to have a good game, we need to dominate, act in the adversary's field and not give them a break. The pressure over a squad like England is a little bigger", he said.
Translated by Raquel Sodré