Hard worker, Sturridge saves himself in English tragedy in Brazil
Isolated at the scheme orchestrated by English coach Roy Hodgson, the center-forward moved, searched for strikes and was most dangerous player
iG Minas Gerais | Josias Pereira |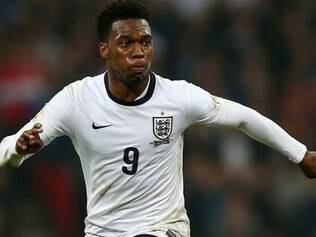 The English squad got onto the field against Costa Rica willing to avoid a historic shame in World Cups. But the so promised battle on the field was beaten by dispiritedness. Not even the formation with young players such as Lallana, Wilshere, Shaw and Jones excited the over 57 supporters present at Mineirão. The only exception was forward Sturridge.
Isolated in the scheme orchestrated by English coach Roy Hodgson, the center-forward moved around, searched for strikes and was the English player who most performed dangerous scenes for the great goalkeeper Keylor Navas. His first opportunity was created right at minute 11. After a pass from Wilshere, English N9 risked a kick. The ball passed centimetres away from the left goalpost.
At the second half's beginning, Sturridge was face to face to the goal, but ended up tangling himself when trying to conclude. Navas got off well and smothered what could have been the English victory goal. Along the match, the player kept on his solitary struggle commanding the attack. Rooney and Gerrard even got to the field, but England didn't deliver much. The team's apathy got clear and the Brazilian supporters didn't pass it over.
After so many matches in Mineirão stadium, the Pampulha Giant witnessed its first 0-0 in World Cups. All England could do was mourn the defeat. The Costa Ricans were left with the unexpected joy of being the first of World Cup's Death Group.
Translated by Raquel Sodré