Uruguayan hero, defender Godín hit in every 2014 "finals"
Fullback scored classification goal of La Celeste to the last-16 of the World Cup, repeating what he had done for Atlético de Madrid
iG Minas Gerais | Gabriel Pazini* |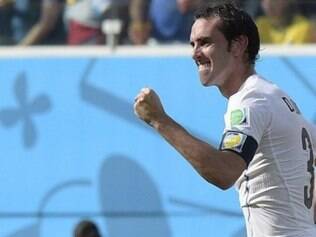 Everyone expect the aces who decide a match to be attackers or mid-fielders. Defenders and goalkeepers, however, may also be fundamental with a defense, interrupting or disarming a strike. That, though, isn't Diego Godín's only skill. He, who is fullback at Atlético de Madrid and at the Uruguayan squad, has defined the results of difficult matches for his local team and his national squad either defending or attacking.
Author of the victory goal over Italy 1-0 - triumph that classified the Celeste for the last-16 phase and eliminated the Azzurra from the World Cup - Godín was also decisive for his local team hitting other goals in final matches.
The fullback has scored Atlético de Madrid's goal that led the team to the title at the Spanish Championship, closing a festing of 18 years. At the occasion, the Atleti was tie to Barcelona 1-1 in Camp Nou, for the last round of La Liga in what came to be the championship's "final". The other time the defender scored a goal on a decisive match was at Uefa Champions League, against Real Madrid. At the time, however, the goal didn't make much difference, since the Colchoneros lost the game 4-1 and didn't get the unprecedented title.
That been said, one thing is for sure: Godín shows up in defende as well as attacking to define crucial matches. Curiously, all three goals have been really similar: all of them were headed, after a free kick from a corner, and all the corners were at the same side of the field.
* Supervised by Leandro Cabido
Translated by Raquel Sodré