Neymar and Felipão celebrate end of Fred's festing at the World Cup
Ace attributed the colleague's date with the net to luck moustache, while Felipão says he has confidence in Fred, although he hasn't delivered all his potential in this Cup
iG Minas Gerais | Felipe Ribeiro and Guilherme Guimarães |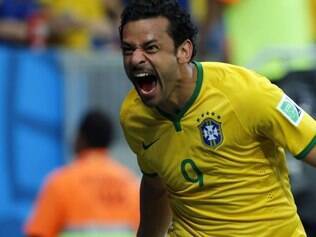 Brasilia. It took a little longer than the usual for Fred but, at last, Brazilian squad N9 has shaken the net at the World Cup. The player had had a plain performance at the first two rounds, against Croatia and Mexico, but ended up finding his way at the duel against Cameroon, in Brasilia.
He already experienced some pressure, coming from the supporters and from his own relatives. But the confidence has never been shaken and expectations were only to know when the center-forward would debut at this year's championship.
Felipão reminded that the same barrier was overcome at the Confederations Cup, last year, but he knows that the player can deliver a lot more, because he has the potential and has already proven that by wearing the yellow jersey other times.
"I spoke to Fred before the match because he was anxious. He was afflicted to score a goal and everything just flowed naturally, like at the Confederations Cup. He is a trustworthy player. He still isn't Fred as we know him, but he may grow stronger with this goal", said the coach.
Neymar, on the other hand, joked about the fact that the colleague has grown a moustache, seen as a lucky charm, to play against Cameroon squad. "I told Fred he had to keep the moustache to hit a goal, because that trick never fails", said the N10.
Translated by Raquel Sodré