Prince Harry hands in medals to children at Minas Tênis Clube
British monarch came to Belo Horizonte to watch farewell match of the English squad in Mineirão
iG Minas Gerais | Ana Paula Pedrosa |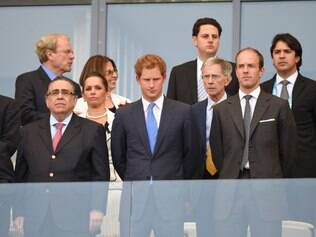 Precisely at 8h58, Prince Harry arrived at the pools area of Minas Tênis club, where he stood for nineteen minutes, until 9h17. Followed by olympic swimming champion Cesar Cielo, Harry was received with applause and gave start to a swimming demonstration performed by children and adolescents. After that, he delivered symbolic medals to the athletes and greeted other children.
Always smiling, he went on to Minas' arena, where he watched demonstrations of rugby, judo and basketball. The olympic and paralympic delegations of London will use the club's facilities in 2016 to prepare for Rio de Janeiro Olympic games.
Harry arrived at Belo Horizonte this Tuesday (24) morning, on a charter flight coming from Brasilia. He went straight to Minas Tênis. Then, he went to Mineirão, where he watches the game between England and Costa Rica. At night, the prince flies to San Paolo, where he will take part, tomorrow, in the National British Day celebrations, a series of honours to the queen.
Youngsters get emotional for meeting the prince "I couldn't even sleep. I'm going to see a real prince". The phrase, said by Letícia Lage, 11, minutes before prince Harry's arrival to Minas Tênis, sums up the children who participated in the monarch's reception's anxiety. She was in the group of kids who greeted Harry after the swimming demonstration.
Also in the group was Letícia Alves Souza, 18, who waited for the prince holding an English and a Brazilian flag. "It's a historical day. A prince comes to our city and is so close to us", she said. She swims at the club and said the latest practices have been followed closely by federal police agents who were part of the prince's security team.
Translated by Raquel Sodré