Brazil gets first place and faces Chile in Mineirão
Brazilian rout over Camerooneses had a show by Neymar who, playing at the stadium named after Garrincha, performed like Garrincha. Let the Chileans come on Saturday!
iG Minas Gerais | Felipe Ribeiro and Guilherme Guimarães |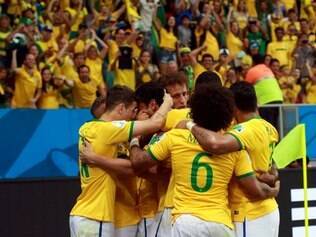 Brasilia (FD). Supporters from Minas Gerais may now reserve their yellow jerseys, take care of their throats during the week and get their hearts ready, for Brazil has guaranteed first place of group A and goes to Mineirão to face Chile next Saturday (28), at 1 p.m., on a confrontation for the last-16 knockout round of the World Cup.
Pampulha's Giant will have the chance to host the Brazilian squad for the first time on duels of the most important international football competition. All that thanks to Brazil's rout 4-1 over Cameroon in Mané Garrincha stadium, in Brasilia.
However, the passport to play on Minas Gerais grounds hasn't been stamped as easily as everyone had thought before the game, especially in the first half. For a team that confronted a Cameroonese squad already defeated, they were short of some things.
Each Cameroon attack caused shivers on supporters and increased the athletes' nervousness. But the support coming from the bleachers was impeccable. Despite some music and excitement missing, the supporters have accompanied the team, even at adversities.
Brazilian N10 was willing to give the public a gift. At the stadium named after Mané Garrincha, one would think that Garrincha himself had been incorporated by Neymar. He played, dribbled, ran, headed, passed, scored and, mainly, scored goals.
Two have been Neymar's celebrations. He, who carried the team on his shoulders at the toughest moments, was cheered by the supporters and got replaced by Willian. A performance worth a strong contestant of World Cup best player prize.
At the pre Mineirão warmup, Fred still had to be woken up. N9 ended up fulfilling the prophecy his father had made the day before the match. Mr. Juarez had guaranteed, on a flight from Belo Horizonte to Brasilia, that his son would end his fasting at this match. Indeed.
If, on one hand, last year the player scored a goal against Uruguay in Pampulha's Giant for Confederations Cup semifinals, expectations are that the forward recovers his 2013 phrase: "In my house, I'm the boss" (Fred is from Minas Gerais).
Finally, a goal that may and probably will change the start lineup for the next game. In front of another weak performance of Paulinho, Felipão has given Fernandinho a chance, and he didn't disappoint the coach. N5 got in well and hit a fine goal ending up the rout.
Cameroon 1 x 4 Brazil
Reason: Group A 3rd round Stadium: Mané Garrincha, Brasilia Referee: Jonas Eriksson (Sweden) Goals: Neymar (16' and 34'), Fred (49') and Fernandinho (83'); Matip (25') Yellow Cards: Enoh, Sali e Mbia (CAM) Public: 69.112
Cameroon Itandje, Nyom, Nkoulou, Matip and Bedimo; Nguemo, Mbia and Enoh; Choupo Moting (Makoun), Moukandjo (Sali) and Aboubakar (Webo) Coach: Volker Finke
Brazil Julio Cesar, Daniel Alves, Thiago Silva, David Luiz and Marcelo; Luiz Gustavo, Paulinho (Fernandinho), Oscar, Hulk (Ramires) and Neymar (Willian); Fred Coach: Luiz Felipe Scolari
Translated by Raquel Sodré