English join Brazilians at Savassi square party
Even eliminated from the Cup and having only to follow the formalities this Tuesday, England supporters made a lot of noise
iG Minas Gerais | Thiago Prata |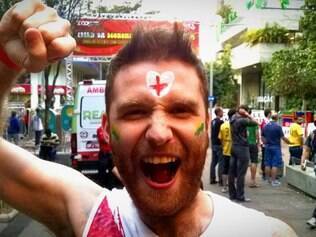 If, some days ago, Savassi square had been invaded by Colombians, Greeks, Belgians, Algerians, Argentinians and Iranians - among other nationalities - this Monday, before the game Brazil vs Cameroon, the place served as a stage for Brazilians, English and Costa Ricans.
The queen's land affectionates were the ones to party harder. Their shouts intensity was such that one wouldn't even think England has already been eliminated from the Cup and is just following the formalities this Tuesday (24), in Mineirão stadium.
Minutes before the beginning of the Brazilian and the Camaroonese squad duel, the English, dressed with their squad's uniform and having painted faces, joined the "mineiros" (one born in Minas Gerais), who watched coach Luiz Felipe Scolari's team battle.
After the Brazilian national anthem, the English supporters still chanted some anthems themselves before the ball started to roll.
Brazil's victory 4-1 over Cameroon granted the team the first place in group A and its classification for next phase. As he ended up as leader, he will face Chile in Belo Horizonte, on Saturday. Today (23), millions of people were watching the match at Savassi bars.
Translated by Raquel Sodré