In Brazil, Prince Harry visits Sara Kubitchek hospital
British monarch arrived this morning to the Brazilian capital and visited hospital that is reference in big traumas treatment
iG Minas Gerais | Folhapress |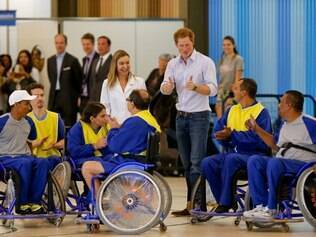 Prince Harry won't arrive to Belo Horizonte until next Tuesday (24), to watch the match between England and Costa Rica, but he is already on Brazilian grounds. This Monday (23), the Prince arrived in Brasilia and paid a visit to Sara Kubitchek hospital in the morning.
The place is reference for rehabilitation of big traumas. There, the Prince has watched a wheelchair basketball game. In the afternoon, Harry is going to Mané Garrincha stadium for Brazil vs Cameroon match.
The British monarch's arrival to Belo Horizonte will be on this Tuesday. Before going to Mineirão stadium, he will be at Minas Tênis Clube facilities, where part of the British delegation will be practicing for 2016 Olympic games, that will be held in Rio de Janeiro.
Translated by Raquel Sodré