Genius of Messi saves Argentina and delights fans in Mineirão
Striker hermano decided the game in a single bid avoiding to frustrate 60,000 supporters who were there to watch it
iG Minas Gerais | Thiago Nogueira |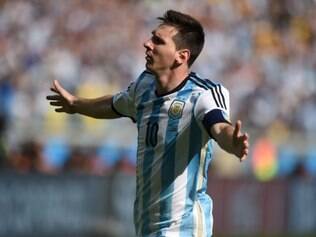 Having Pope Francisco and taking Maradona as God, the Argentine King, with no doubt, is Lionel Messi. With Your Majesty on a field, people could expect the possible and impossible, anytime. The genius were held untill second half 46'.
A big save to Argentina! And he was. A cut on the marker and one swipe of his left foot outside the area, gave no chance of defense for the brave goalkeeper Haghighi. All that, followed closely by his wife Antonella, 1 year 7months son Thiago, and 57,696 supporters. - largest audience of the new Mineirão.
In 2008, when he first set foot in Mineirão, he was applauded - ironically, because of a bland 0-0 between Brazil and Argentina. Not this time. The fervor was not only from vast majority of Argentines, but it also came from Brazilians, honored to watch, firsthand, the four times world's best player's foootball.
In a truncated game, Messi's talent would be increasingly requested. He was heavily marked. There were times when three, even four surrounded him. It was tough to find space. When the star found some gap, he was stopped by foul.
Sometimes, the output was exploring that attracting the rivals to open spaces, giving chance to the others. But it wasn't enough. Once Iranians failed, Messi gave his card: ripped the way he likes to, almost won the defense opposing a kick in the corner. However, it wasn't time.
Argentina needed its ace. In set pieces, the whole stadium stood up freaking out to watch number 10 scores. He has made ​​six touches on finishes, three of them directly to tha goal. Furthermore, not frustrating the crowd, the superstar striker left the best to the endt. Messi, name of the game, writes history scoring in Belo Horizontine's lands in injury time.
Translated by Henrique Bastos