Out in 2010, he is France's star in World Cup 2014
Forward Benzema celebrates good time and three goals in this World Cup, but doesn't think about leading
iG Minas Gerais | By Thiago Prata |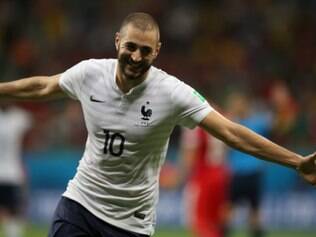 Salvador (BA). "I'm very disappointed, but not dead." said Karim Benzema. The situation? After disclosured the release of France squad's for the 2010 World Cup, which the attacker was put out. A sadness, buried in the past.
Times have changed. Today, Benzema is one of the highlights of this World Cup and considered by the press as the biggest star of the French squad - label that he discards.
Anyway, it is clear how much he makes for the team. Debut against Honduras, the striker shook the net twice and still had an important role in another goal for the 3-0 victory.
In a 5-2 triumph over Costa Rica, was again decisive, with a goal and two more decisive acts. The wasted penalty was unnoticed, although it would give him one more goal in quest of the tournament's striker.
But who said Benzema is thinking of leading? What he really wants is the Cup title in his first participation. "I'm very happy (by goals scored). But as I always say, - do it for my teammates, " he said after the clash against the Swiss.
Translated by Henrique Bastos