Standard Fifa's price sets a surreal reality in Cup's capitals
Tourists do not hide their amazement at some abuses
iG Minas Gerais | Folhapress |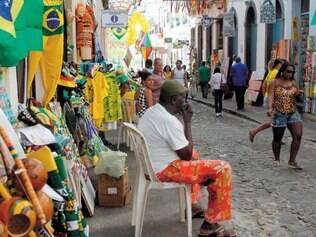 At beaches in Rio, in Northeast's St. John's feast, very close to the Amazon rainforest or even in cold Curitiba, touristic attractions off-Copa have an item in common that has frightened people from different countries, from North to South: the prices on the 12 host cities.
Standard Fifa's inflation is varied: there are hotels that quadrupled daily's value, parkings decided to charge US$ 50 during match days, and steakhouses, which left behind courtesy typical shows for free, started charging US$ 8 for hour - eating.
Marketers attack with surreal prices and modest recoveries. A salami may cost you US$20, while a glass of lemonade worths US$6.
For alcoholic drinks, the price skyrockets. At bars in Belo Horizonte, you can pay US$ 70 for a bottle of vodka - the cheapest one. And of course, snacks, entries, appetizers could not be out the indigestible prices. In Belo Horizonte, a portion of the loin costs US$5 and cashew nuts goes from US$ 60 per kilo.
Tourists do not hide their astonishment. Colombian friends Edgar Ospires, advertising, Christian Herrera, engineer and Leon Suarez, economist, went to Minas Gerais's capital to watch the World Cup, but also enjoyed the night life. They've paid around US$ 25 just to get in a party at Butterflies's Market, in the center. Its almost the price of cheapest tickets to watch matches at the World Cup (US$ 30).
"A glass of beer or catuaba costs US$5 each. With this money, we could buy a whole bottle." complained Leon Suarez. In Belo Horizonte, the scares start at the airport, where diners are famous for high prices. At Confins, a chicken sandwich costs uS$ 8 and packet of gum, usually sold at most US$ 1, double price.
In Rio de Janeiro, tourists who take the trip going to trendy restaurants are faced with no less inflated prices. In Santa Teresa, a house with a breathtaking view also makes airless who asks for a pineapple juice jar with 1.5 liter. Its US$ 25 charged. "We knew that the values ​​would be high, but not so much," says the Mexican Claudia Martin del Campo.
Translated by Henrique Bastos