Tension between Brazilians and Argentines worries world's organization
It has also asked that team's supporters push the feud aside
iG Minas Gerais | Folhapress |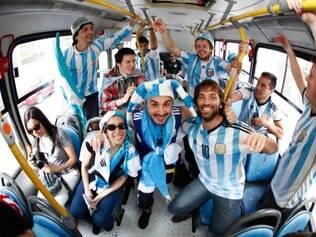 The LOC (Local Organizing Committee of the World Cup 2014) reported on Sunday (22) some concern about growing tension between Brazil and Argentina, once said that measures have been taken to contain possible confrontations.
World's organization also asked that fans of both teams put animosity aside and keep only the rivalry on the fields.
"Everyone sees what's happening.'s Everyone knows this rivalry. But in World Cup history, it was always taken in a peaceful manner. There's no room for that kind of behavior," said communications director COL, Saint-Clair Milesi.
We've been discussing actions to avoid tension increasing. Incidents can not happen growing the spirit of rivalry, " he added.
Brazilians and Argentines have clashed in the two first matches of the Messi's national team in the World Cup. Debut against Bosnia last Sunday in Rio, the two quite offended each other at Maracana ending up with fights inside and outside the stadium.
The worst scenario was early Saturday morning, before the match against Iran in Belo Horizonte. The strife started around 2pm, when Brazilians began shouting "Iran! Iran!". The fight soon turned out to a rain of bottles between the offenders.
One Brazilian was arrested after throwing a bottle against Police troop.
Translated by Henrique Bastos