Brazil vs Cameroon duel sets 100th Brazilian game in World Cups
After 20 years, the Yellow Canaries meet Cameroon at world championships again; first time was in 1994
iG Minas Gerais | Guilherme Guimarães and Felipe Ribeiro |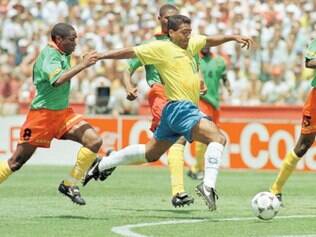 The second time of a Brazil vs Cameroon will be special for the Yellow Canaries. More than a second meeting 20 years later - they faced off in 1994, in the United States - the match will get down in history for the yellow squad for one single special detail. The match against Camerooneses will be the Brazilians' 100th in World Cups.
With 99 matches already played, Brazil is the second squad in number of World Cups disputes. The Yellow Canaries are only behind Germany, which hit 101 games at draw 2-2 against Ghana, on Saturday (21).
In hindsight, Brazil has a good reputation. It's the only squad which already has five world titles, won 68 games, was tie in 16 and lost 15 in its 19 participations in World Cups.
The worst performances of the yellow-and-green squad were in 1966, 1974 and 1998, having been defeated two times in each. In 1930, 1934, 1950, 1954, 1982, 1990, 2006 and 2010, Brazil has lost one single time in each edition.
The third squad which has more games in World Cups is Italy, having played 82 times.
Brazil and Cameroon replay this year one of the matches of 1994 world championship, in the United States, year in which the Brazilian squad got its fourth title. The goals in that match were scored by Romário, Márcio Santos and Bebeto.
Translated by Raquel Sodré