Messi's opponent in childhood remembers with pride rout suffered
Darío Rock played against number 10 between 5 and 13 years old and still keeps in mind the defeat by 9-0 when the Argentine playmaker scored eight goals in 15 minutes
iG Minas Gerais | Felipe Ribeiro |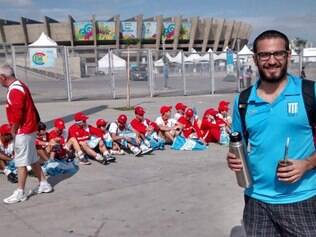 Who gets beaten never forgets. Besides bearing grudge, people usually want a rematch. However, it is not how thinks the Argentine Darío Rocha, 26, who remembers with pride and nostalgia the day that he took a real rout on the field.
In that case, the striker was just Lionel Messi. The master number 10 Argentina played against Darío from 5 to 13 years in Rosario and did the opponent suffer many times. One of them is remarkable for an extraordinary performance.
"My team lost a game by 9-0. Messi scored eight goals. But weren't eight goals in the entire match, were eight goals in just 15 minutes. And he was only 5 years old! Was already a phenomenon since childhood " said Rocha, who was outside Mineirão this morning, with a group of a soccer school from Rosario.
Like any proud father, Darío's would also follow the games closely. In fact, seeing the son on the field was just an excuse for those who wanted to follow the first steps of a boy who had the stamp of genius guaranteed.
"My dad would watch me play, but he says he actually wanted to see Leo on the field. He knew that Messi's talent was amazing even though he was too young. It was very pleasurable for my father seeing Messi's games. " said Rocha.
Translated by Henrique Bastos