'Auto Argentina' - 55 hours on the road to be in Belo Horizonte
Four friends in a blue car bring music and joy to Mineirão Stadium
iG Minas Gerais | Felipe Ribeiro |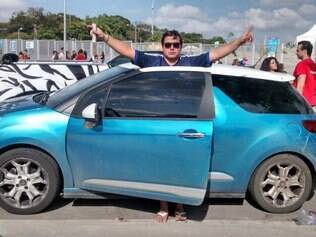 Car plate with Argentina's colors parked in front of Mineirão turned to a point of hermanos.
A blue white car and many supporters partying caught the attention of passers at Mineirão's gate on Friday. Four Argentine friends backpacked faced 55 hours of travel from Rosario to Belo Horizonte.
The vehicle owner, Pablo Mendez, with bare feet and sunglasses seems to be a traveler tired of driving. Furthermore, putting on a shirt of the Newell's Old Boys team, his fatigue doesn't appear to beat the euphoria.
"This is Auto Argentina (Argentina's car). It has been traveled from Rosario and now is in Belo Horizonte. We still have plans to go through Sao Paulo, Curitiba and Porto Alegre. The fun of seeing Argentina playing the World Cup worth the effort," said Méndez.
A few minutes later, police arrived on the scene and warned of the parking spot. "Los hermanos" and the authorities talked a little avoiding that fines were enforced. Everything ended up solving shortly.