Arena Fonte Nova has already had more goals than two stadiums in 2010
So far, Salvador's Arena witnessed ten goals, exceeding the number of goals at Stadiums in African World Cup
iG Minas Gerais | Thiago Prata e Victor Martins |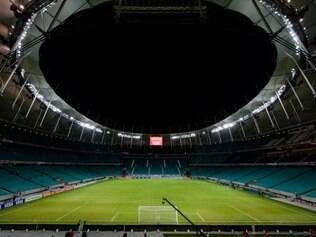 Fonte Nova Arena played host to two big routs in this World Cup, delighting many football fans. Netherlands - on Spain for 5-1 - and Germany - over Portugal by 4-0 -, have made the arena surpass two stadiums of the South Africa World on number of times that the nets rocked.
The "lucky" stadium needed only two games to overcome two stadiums in the African country: the Mbombela, which was scene of nine goals in the last edition, and the Peter Mokaba, where had only five goals.
The arena's feat becomes even greater since the goals had left only in the first two matches, while the Africans have hosted four matches each in the past to get those results.
There still will be four duels at Fonte Nova, which can go beyond the Cape Town in Africa, stadium with more goals in 2010, where were scored 22. Considering the goal average until now, it already gone (check below).
On the next Friday (20), at 16pm, Switzerland and France are entitled to keep the Arena's high scoring. Otherwise, spectators expect to watch a match a little more fair than the previous two.
BRAZIL WORLD CUP, 2013
Arena Fonte Nova - 10 goals in 2 games / 5 goals per game
SOUTH AFRICA WORLD CUP, 2010
Cape Town - 22 goals in 8 games / 2.75 goals per game
Soccer City - 21 goals in 8 games / 2.625 goals per game
Ellis Park - 19 goals in 7 games / 2.71 goals per game
Nelson Mandela - 16 goals in 8 games / 2 goals per game
Moses Mabhida - 14 goals in 7 games / 2 goals per game
Free State - 14 goals in 6 games / 2.3 goals per game
Royal Bafokeng - 14 goals in 6 games / 2.3 goals per game
Loftus Versfeld - 11 goals in 6 games / 1.83 goals per game
Mbombela - 9 goals in 4 games / 2.25 goals per game
Peter Mokaba - 5 goals in 4 games / 1.25 goals per game