Colombia hits Ivory Coast and gets closer to the classification.
100% success in the first two games, South American team is pretty much in the next round.
iG Minas Gerais | Folhapress |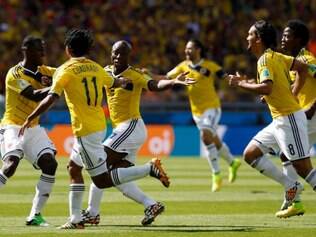 Colombia beat 2-1 Ivory Coast, on Thursday (19) at Mane Garrincha in Brasilia and got very close to the life-or-death. With six points in two matches, Colombia goes forward, even if it loses the next match.
On the other hand, Ivory Coast has the 2nd place in Group C threats by Japan and Greece, which will be facing each other on Thursday, at Arena das Dunas in Natal, at 7pm.
The duel between the squads started fairly busy and with colombians having trouble to win the defense in the first half. While Colombia was more offensive field, Ivory Coast showed speed and bet on the counterattack.
With most supporters in the stadium bleachers, Colombia got better when Cuadrado shifted by heel to Gutierrez, who gave the first shot on goal outside the area.
Despite an open game, the Colombians continued with the best odds. At 28', Gutiérrez was free in the area and lost an incredible opportunity to score at first place.
The goals only happened in the second half. At 18', after a corner kick, James Rodríguez jumped over everyone and opened the scoring game. Six minutes later, after counter attack, Quintero came face to face with the goalie and did not wast it.
Translated by Henrique Bastos
Ivory Coast still reacted with a great goal from Gervinho, who scampered, getting rid of the defence, and scoring beautifuly. With 2-1 on the scoreboard, Ivory Coast put on in the final minutes, but couldn't get a draw.
Next Tuesday (24), Colombia faces Japan at Arena Pantanal in Cuiabá and Ivory Coast tries to recover against Greece, at Castelão Arena, in Fortaleza.
COLOMBIA Ospina; Zuniga, Yepes, Zapata and Armero (Santiago Arias); Sanchez Aguilar (Mejía), and James Rodriguez Cuadrado; Ibarbo (Quintero) and Gutierrez. T.: José Pekerman
IVORY COAST Barry; Aurier, Bamba, Zokora and Boka; Serey Die (Bolly), Tiote and Yaya Touré; Gervinho, Bony (Drogba) and Gradel (Kalou). Technical: Sabri Lamouchi,
Stadium: Mane Garrincha in Brasilia Referee: Howard Webb (England) Goals: James Rodriguez, at 18 min, Quintero, at 24 min, 27 min and Gervinho (2nd half) Yellow cards: Zokora and Tiote