After being much expected, Portugal now struggle to not be eliminated
The Cristiano Ronaldo's squad puts the survival on the table playing against the United States on Sunday
iG Minas Gerais | FOLHAPRESS* |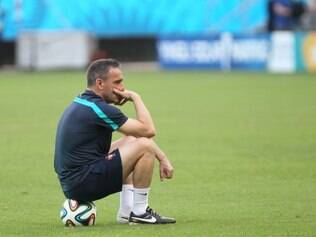 From heaven to hell. The Portuguese squd arrived to Brazil blowing up, displaying the best player in the world and also unbeaten in Europe for almost two years and 13 games. However, the 4-0 Germany rout on Sunday (15) was enough to put all this in check.
Taken for granted in the quarter-final, the red-green squad plays on Sunday against the United States to survival in the World Cup. Furthermore, problems seem to enclose it.
On Wednesday, the output of star Cristiano Ronaldo before ending a traning, was just the tip of the iceberg. In front of 10 thousand spectators, the player left Moisés Lucarelli Stadium in Campinas (93 km from SP) with boots in hand, head down, and ice on his left knee.
With tendinosis, "the best in the world" had already put ice in the same knee on Thursday, after training with a special protection all these days.
Although all players - including himself - say he is 100% physically, Cristiano Ronaldo has not lived up to expectations on the field.
To make matters worse, the coach Paulo Bento lost crucial players in the game against Germany. Goalkeeper Rui Patricio, left-back Fabio Coentrao and striker Hugo Almeida, both injured, and defender Pepe who was sent off.
Coentrao has already returned to Europe on Wednesday (18) to take care of the injury. Hugo Almeida and Rui Patricio will only play if the team past the first round. Such as Spain, Portugal will be eliminated with a game in advance if loses to the United States in Manaus. Reason why the press began to question the squad and preparation made for the World Cup.
The players preferred to blame the arbitration and believe in the quarter-finals. "It's no excuse, but the referee influenced our performance and the result.", said goalkeeper Beto who fight with Eduardo for Rui Patricio's place as holder.
"We still have two games, 180 minutes, and we rely solely on us."Even though we lost to Germany, We´re still a great squad."
*Translated by Henrique Bastos