Chile defeats Spain and eliminates current world champion
"Furia" is the fourth champion eliminated in first round of a following World Cup
iG Minas Gerais | Victor Martins |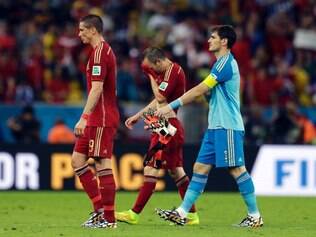 Champion of South Africa's Cup in 2010 and twice European champion in 2008 and 2012, Spain came to Brazil as the big favorite to take the World Cup. However, the math of trophies seems to not work on here, since Spain was the first eliminated in the competition.
Touted as the underdog of group B, Chile had no trouble overcoming the Vicente Del Bosque's squad, at Maracana.
With goals from Vargas and Aranguiz, both in the first half, the South American team ensured presence in the quarter-finals.
Thus, Spain becomes the fourth champion eliminated in the first round of a following World Cup, just like Italy (1950 and 2010), Brazil (1966) and France (2002).
Pressed by the rout suffered to the Netherlands in the first match, Spain had to face a prepared squad, which was superior from the first minute of play. Just after 40 seconds, Chile attacked with ability and got a corner.
With great individual talents and a team well ridden by Jorge Sampaoli, the Chilean goal was a matter of time. Even more considering a slaughtered Spain with players in bad shape.
Defensive midfielder Xabi Alonso is a great example. One of the main players in previous campaigns, the liner 14 missed everything he's tried during the match, including the chance to open scoring. After 15 minutes, he came face to face with Bravo, but he was stopped by the chilean goalkeeper.
Worst mistake, four minutes later, he missed out on the game and gave counterattack for the Chileans, which has not been wasted with Vargas.
As nothing is so bad that it can not get worse, Spain took the second goal in another fail of an important pillar of the team. Real Madrid's goalkeeper, Casillas, will not leave Brazil with good memories. Once failing against the Netherlands, the Spain captain palmed the ball badly after a free kick of Alexis Sánchez, giving Aranguiz good advantage to increase the Spaniard suffering.
Majority in the stadium, the Chileans had the support of Brazilian fans. Early in the second half was possible to hear cries of "eliminated" or "olé" everytime Chile's squad had the ball on feet.
Besides the brazilian's doom and bad technical phase of main players, like the midfielder Xavi, Spain also had no luck.
Busquets wasted a big chance to score without a goalkeeper, just 3 minutes into the second half. The goalkeeper Bravos, on the other hand, has saved the team more than twice, ensuring the victory by 2-0 and making real the return of Spain to Europe, after facing Australia in Curitiba, playing just to meet table.
Now Chile, keeping first in Group B, and perhaps escape facing Brazil in the next round, plays against the Netherlands, in Sao Paulo.
IMPRINT - Spain 0 x 2 Chile
Spain: Casillas; Azpilicueta, Sergio Ramos, Javi Martinez and Jordi Alba; Busquets, Xabi Alonso (Koke), Iniesta and David Silva; Peter (Cazorla) and Diego Costa (Fernando Torres) Coach: Vicente Del Bosque
Chile: Bravo; Jara and Medel Silva; Isla, aranguiz (Gutierrez), Díaz Vidal (Carmona) and Mena; Vargas (Valdivia) and Sánchez Coach: Jorge Sampaoli
Goals: Vargas, 19' , Aranguiz, 42'
Yellow cards: Xabi Alonso (ESP) Mena and Vidal (Chile) Championship: 2nd round of group B of the World Cup 2014 Location: Maracanã, Rio de Janeiro Attendance: 74,101 Referee: Mark Geiger (USA)
Translated by Henrique Bastos