For David Luiz, draw against Mexico came in the "right time".
Defender avoided comparing the team performance in the first two matches and said that everything is part of a maturing process.
iG Minas Gerais | Josias Pereira |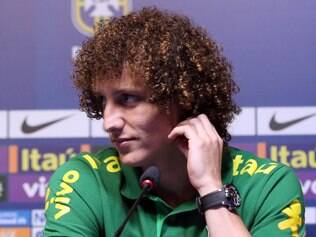 Fortaleza (CE). In their debut in the World Cup, the Brazilian squad met difficulties to beat Croatia, before turning, for 3-1. Against Mexico, the Luiz Felipe Scolari's team did not take off the zero marker.Neymar and the others were stopped by the big wall called Guillermo Ochoa.
After the match played in Castellan, in Fortaleza, defender David Luiz prefered to not compare Brazil's performance in the first two World Cup matches.
Slightly ironic with the press, the defender chose to exalt the behavior of the yellow squad, that, according to him, was more blunt during the whole match.
"We shouldn't compare games, but analyse them. We've faced completely different opponents. He emphasizes.
Against Mexico, we had many aspects superior to them and countless times we kept control of the match. We had many chances to scorel, but, unfortunately, it didn't happened." said David Luiz.
Also according to him, the draw against the Mexicans came in a "good time". The difficulties are part of the maturing process of this young squad, which tries to withstand the pressure of winning a World Cup as the host country.
"It is important that the team has always learned how to grow with the mistakes. This gives us a lot of baggage for the future. Maybe, if we had won easily the three games in the first round, we could get in a quarter-final without being prepared for trouble. Then, we could lose 1-0 and leave home. So, thinking about the context, today's game gives us a lot of maturity for what lies ahead.", he concluded.
Translated by Henrique Bastos