Fifa will change technology decisions' exhibition after polemics
After French goal over Honduras, screen has showed "no goal" before confirming the feat
iG Minas Gerais | FOLHAPRESS |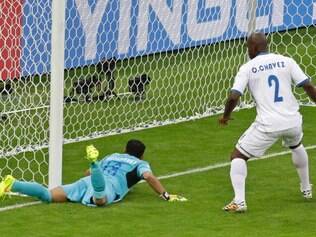 Motivated by the polemics caused by the electronic system, Fifa is going to modify how the decisions are presented to the public. This system detects if the ball has crossed the goal line.
The technology has been useful for the first time at French victory 3 to 0 over Honduras, on Sunday (15). The second French goal has been validated with electronic help. On that stroke, Benzema kicked the ball on a goalpost. Sequentially, the ball hit goalkeeper Valladares and entered the goal. The defender got himself together and managed to take the ball out, but according to the system, it had already crossed the line.
The decision has been polemic because initially the screen showed only the first part of the stroke (the ball on the goalpost) - i.e. the "no goal". Only later the "goal", which had occurred on the second half of the stroke, has been showed.
"It all worked as planned. The TV images hadn't been conclusive. Therefore, we had to show the animations. We are going to modify them in order to facilitate the public's comprehension", said Fifa's speeches woman, Delia Fischer.
The organization's employee didn't know precisely which modifications are going to be made. It's likely, however, that on strokes as the one mentioned, with two distinct moments, only the final decision is informed to the public - on the French case, the goal.
The polemic over the technology has stolen the spotlights on the press conferences after the match. Honduras' coach, Luis Suárez, was one of those who questioned the equipment's performance. "It didn't bother me that a goal has been scored. The first decision of the machine had been 'no goal'. The second one was goal. If this blessed machine says no, and then yes, which is the truth?", questioned the coach.
French coach Didier Dechamps, on the other hand, said that the use of technology is a "good solution", but he also admits that everyone got "nervous" when the stroke occurred.
Main character of the historic scene, Benzema says he saw the ball inside the goal at the moment, but he also said he "doesn't know" if it's good having technology on the goal line"
Translated by Raquel Sodré