With no crying or talking about the World Cup, Pelé opens museum
Football king's speech lasted only five minutes; ceremony counted on the presence of politicians and former players
iG Minas Gerais | O Tempo |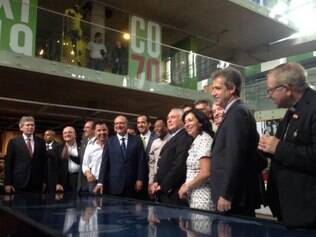 Main star of the day, Pelé has little participated on the inauguration of his own museum on this Sunday (15) morning, at the centre of Santos - 74 km from San Paolo. The King of Football has arrived to the place around 10:50 a.m., but he had to wait for about 50 minutes to talk about the museum dedicated to him.
Before his speech, there has been a ceremony with the national anthem and two films have been broadcasted. One of them about Pelé's career and the other with an homage to the King. "Today, the King has his castle - one more among his one thousand goals", said the song.
After that, Santos' mayor, Paulo Alexandre Barbosa, San Paolo's governor, Geraldo Alkmin, and vice president, Michel Temer, made speeches. President Dilma Rousseff, who has alleged an official appointment and was not present, has recorded a video message, which was also broadcasted before Pelé could speak.
The King of Football's speech has lasted a bit more than five minutes. He thanked all those involved in the project and said he was pleased to promote the country one more time. "In 1958, with the world title, I helped promoting Brazil throughout the world. Now, with this museum, I am helping to bring the world to Brazil", Pelé said.
The most curious part was that Pelé didn't cry, as the organizers had expected. He left the place a few minutes after that, without giving any more interviews.
Museu Pelé is going to open Tuesdays to Sundays, from 9 a.m. to 6 p.m. But it will be open exceptionally this Monday (16). The tickets cost R$ 18 (approx. US$ 8).
The space dedicated to the King is at Largo Marquês de Monte Alegre, no number, at Santos' old centre. It occupies three blocks of Casarão do Valongo, built in 1872 and that has suffered a restoration process from 2010. The whole makeout has cost R$ 50 million (approx. US$ 22 million).
No co-Stars
During the ceremony, former Santos' team players Pepe, Lima, Clodoaldo, Dorval, Abel, Edu, Negreiro and Manoel Maria were there. "I'm proud of seeing Pelé's museum, even more knowing that I was part of that history also", told Pepe to the press, next to one of his pictures at the place.
"Everybody talks about Pelé's Santos, but Pelé always remembers us when he talks about his glories. And the museum has this spirit: showing this glories without forgetting us", declared Clodoaldo. "It looks good, looks interesting. I even see myself on one of the museum's walls", said Durval.
The other guests at the ceremony weren't all guests. The organization didn't have the total number of people present, but around 2.000 people were there. Besides the 360 journalists.
Translated by Raquel Sodré