Japanese pick up their trash after their national squad match
Oriental supporters have been seen cleaning the area where they have watched the duel against Ivory Coast
iG Minas Gerais | Daniel Ottoni |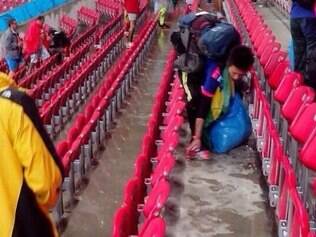 A little after Ivory Coast's victory over Japan, some curious images, unusual for many Brazilians, have started to circulate on social nets. Japanese supporters have been spotted with litter bags, picking up the rest of the products they have consumed during the match that was held at Arena Pernambucano on this Saturday (14) night. Each one insisted on cleaning their seats area.
Many supporters have posted the image on their own profiles, highlighting the Japaneses' behaviour, which could serve as an example to a lot of Brazilians.
In reference of the Cup, in Belo Horizonte, the city's streets now display banners and posters encouraging each citizen to pick up the trash they produce.
Translated by Raquel Sodré