Prostitutes play street football at Guaicurus street for profession re
Match has counted on Minas Gerais Federal University (UFMG) Social Sciences students' participation; there were also members of the Jovens Com Uma Missão (Jocum) movement
iG Minas Gerais | Vinícius Lacerda |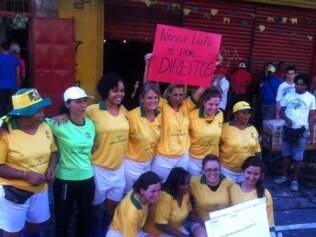 A different form of protest and embracing the World Cup atmosphere has drawn the attention of those who passed by famous Guaicurus street, at Belo Horizonte's centre, on this Saturday (14) afternoon. The Prostitutes Association of Minas Gerais (Aprosmig) has organized a street football in the middle of the street to claim for the profession's regulation in a physical space.
Delicinhas team (formed by Social Sciences students of Universidade Federal de Minas Gerais) beat 7 to 6 Peladas Futebol Clube (formed by members of the Aprosmig and of the social movement named Jovens Com Uma Missão - Jocum). The act, named "Zona Padrão Fifa" (Red Light District Fifa Standard), has begun at a quarter past 3 p.m. and went on until ten to 5 p.m.
According to Aprosmig president, Aparecida Menezes Vieira, some time ago there have been some rumours that the sex professionals would be moved from their work places and that has generated the idea for the protest. "With the World Cup beginning and the suspicion of moving the girls from their spots, we have decided making the match as a form of protest", she says.
North-American Genny Jack, aged 35, is part of Jocum - which works fighting human traffic - came to pass the World Cup in Brazil and helping in the activities. "Our idea is giving this girls love without judging them. If they want to pray, we pray. If they want to talk, we talk. We are not here to change their lives, only to give them hope and show them their value", she told us.
Translated by Raquel Sodré