Casillas asks for supporters confidence at "final" against Chile
Spanish captain believes the Fury's potential to retake the victory path in World Cups
iG Minas Gerais | Fernando Almeida |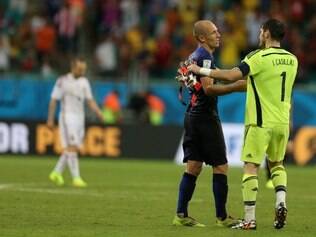 Salvador (BA). The defeat 5 to 1 for Holland has shown the Spanish supporters that their national squad, current world champion, isn't unbeatable. All the other way round. Before the Spanish's fear, the Fury's captain, Iker Casillas, asked the red bleachers for confidende to the decisive match against Chile next Wednesday, at Maracanã stadium.
"We must promise our supporters that they have to always trust us against Chile and we must win, and we are going all in for that", said Casillas. "It's now time for us to get together and strengthen ourselves, because this happens in every group and we must go on", he completed.
In order to conquer the classification to next phase without anymore scares, the Fury must build solid victories against Chile and Australia. However, the Fury's captain wants to go little by little and, for now, think only of the South-American squad. "We are not yet going to think of Australia. We must focus on Chile. Thinking of Australia now sounds absurd to me. If we want to go on at this championship, we must think of winning over Chile", he declared.
The match between Spain and Chile will be held at 4 p.m. this Wednesday (18), at Maracanã stadium, in Rio de Janeiro.
Translated by Raquel Sodré