Colombian supporters were the greatest character in Mineirão
Thousands of the South-American country's representatives gave the team an important support for the squad's victory at their premiere at the World Cup
iG Minas Gerais | Daniel Ottoni |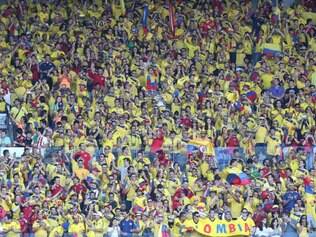 Mineirão stadium was dressed up as "El Campín" on this Saturday afternoon. The Colombian invasion has been such that even before the beginning of the match Pampulha's Giant could be compared to any other great stadium of the South-American country, which is mad about football.
The party has started on the outside, with a legion of supporters shouting their country's name before the gates were open. The yellow force, who got a little help from Brazilians wearing the Yellow Canaries jersey, got even more evident at the national anthem's moment. The song was recited by the thousands of supporters, who were the majority inside Mineirão.
The Colombian voices' were so powerful that even a mere spectator got goosebumps. Not even the end of the anthem's record was enough to shut the supporters, who sang the song until its end - following the Brazilians example.
Few seats have been occupied by the Greeks, who tried to compensate the outnumbering by cheering at the top of their lungs. But the difference was huge and it got complicated for the Europeans not having their chant smoothed by so many Colombian voices together. The stadium was crowded, with a total of 52.174 people.
The Colombian support has generated an effect on the field: José Pekerman's team went like a train over the rivals a few seconds after the beginning of the match. Armero's goal right at the 4th minute of match has paid back the supporters warmth, so that they didn't even have the time to suffer from goals abstinence. The "ola" soon came out to celebrate the score. The game sequence hasn't displayed a clear technical quality inside the field, but that hasn't dimmed the supporters' excitement on the bleachers.
In the first half of the match, many local teams' supporters showed themselves through songs that are usually present at the matches between Atlético and Cruzeiro, but the hype was soon smoothed.
Making themselves at home, Colombia didn't have difficulties to broaden the score and lead the match, confirming the majority's prevision - they would sing "ole ole, ola ola, Colombia va a ganar" ("ole ole, ola ola, Colombia will win") all the time.
Just before the final whistle, the Brazilians present at the stadium sung "eu sou brasileiro, com muito orgulho, com muito amor" ("I'm Brazilian, proudly, with love"), just so that there were no doubts about who was the real owner of the stadium.
Translated by Raquel Sodré