Fred comments the polemical decision: 'It was clearly a penalty'
Brazilian squad N9 asserts that he has, indeed, suffered a penalty at the match against Croatia
iG Minas Gerais | O Tempo |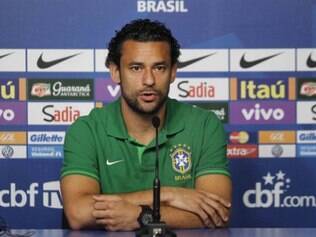 Forward Fred has decided to speak up about the polemical penalty he has suffered on this Thursday (12) afternoon, at Brazil's victory over Croatia 3 to 1, at the Brazilian squad's opening on the tournament. The Japanese referee Yuichi Nishimura's decision has outraged the Croatians, who would have, as a matter of fact, damaged Arena Corinthians' restrooms after the match.
On an interview for the Brazilian Confederation of Football (CBF) channel on Youtube, the forward has asserted having, indeed, suffered a penalty at the 1-1 dispute with defender Lovren. "It was a clear penalty. There is no such a thing as more or less penalty. Fifa has sent us an arbitration committee to orient the players not to grab at the goal area, for the referees would score penalties", explained the Brazilian squad N9.
According to the player, the squads and the referees are prepared for the competition and the fact mustn't interfere at the tournament's continuity. "Nothing is going to distress our atmosphere here, nothing is going to change our focus. This is not going to dim our victory, which has been so merited", Fred completed.
Translated by Raquel Sodré