A root Brazilian showing how to welcome people
"I am in no rush to leave. I stay up to the end, until everything is shining and clear and I do it with joy because it's beautiful", she says.
iG Minas Gerais | Ricardo Corrêa |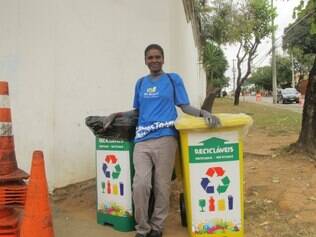 If it were down to Ms. Maria Sueli dos Santos, 54, the World Cup in Brazil would be major success and the foreign tourists would be greatly welcomed. Drew as reciclables' picker at Mineirão surroundings, she is happy and touched by the opportunity of seeing so closely what she hadn't believed could be true until she saw South Africa hold the event on the last edition.
"Then I thought: we can do that too. And that day finally came", she celebrates, highlighting the Colombians' thrill and asking that they have a fine welcome. "They are our neighbours. We must host them well, mustn't we?", she thinks, showing further enthusiasm to stay around the stadium until her services are needed. "I'm in no rush for leaving. I'm staying here until the end, until everything is shining and clear and I do it all with joy because it's a beautiful thing".
Maria Sueli is a simple person, humble, one of those who values the smallest things in life. She told us enthusiastically how she gets presents when she least expects it. She remembers of when she had only R$ 0,25 and prefered reading the Super newspaper (publication of the same group as O Tempo and that used to cost a penny) instead of eating.
A colleague of hers thought that was nonsense, but she answers she's been compensated: "Right on that day I wanted to buy the newspaper and I found ad advertisement of a Sebrae entrepreneurship course with transport and food, all paid. And I took other five reciclables pickers along with me, we stayed at the course for one year. We must be grateful for those things", she says.
Translated by Raquel Sodré