"I won't bother with verbal offenses", says Dilma
President has evoked memories of Brazilian military dictatorship and of the period when she was tortured by the militaries to answer to offenses that came from the stadium's bleachers
iG Minas Gerais | O Tempo |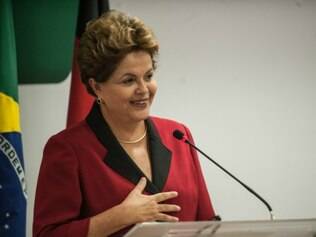 Brazilian president Dilma Rousseff has answered, this Friday (13) to the booing she has heard at the World Cup opening the day before, at Itaquerão stadium. She has evoked memories of Brazilian military dictatorship and of the period when she was tortured by the militaries to answer to offenses that came from the stadium's bleachers during Brazil's match.
"I won't be bothered by verbal offenses. I won't be disrupted. I won't be frightened by insults that can't be heard by children and by families. By the way, in my personal life I have faced all kinds of difficult situations. Situations that reached my physical limit. I have beared not verbal offenses, but physical ones", said Dilma, in between the shouts of a crowd composed by constructors and traffic workers from the capital of the country.
Right after the Cup's opening ceremony, Dilma has been offended for about one minute, after the stadium's presenter had asked for applauses for all the workers who helped building the 12 championship stadiums. "Ei, Dilma, vai tomar no c..." ("Hey, Dilma, go f... yourself"), have shouted some. Others have prefered the version "Hey, FIFA, go f... yourself", addressing to the international organization responsible for the Cup.
"Brazilian people don't react like this. Brazilian people don't think like this and, above all things, Brazilian people don't feel the way these insults express. Brazilian people are a civilized people, besides being extremely generous and polite. You may count on the fact that I won't be weakened by this", Dilma said.
This Friday morning, she has participated in one BRT stretch's inauguration in Brasília. The Federal District's BRT had been announced for the World Cup, but two days after the beginning of the tournament, it is still on trials. Other two stretches are not ready yet: one of them is under construction and the other one hasn't even started being constructed.
Despite the fact that the championship is already ongoing, Dilma will insist on her tour around the country inaugurating works initially promised to be ready for the sports event. The federal administration's argument is that, by maintaining an intensive inaugurations agenda during the Cup, the president strengthens the idea that the improvements made are not for the tournament, but for the population.
This Friday, the president has been on a 10 km ride between Granja do Ipê station and Santa Maria terminal inside one of the articulated buses that operate at the new capital's transport system.
Translated by Raquel Sodré