Supporting Brazil and fighting for life
Children with cancer have a break at the treatment to manifest support and belief for the Brazilian squad
iG Minas Gerais | Ana Paula Pedrosa |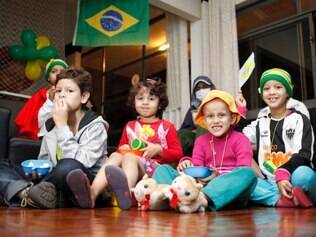 Laura Almeida, aged 4, doesn't quite know what a World Cup is, but was super excited to support Brazil. What Daniela Santos, 8, really wanted was to see goalkeeper Victor at work, but she liked coach Felipão's team anyway. So, she went to her room, put on a yellow and green beret and drew a Brazilian flag to agitate during the match. Miguel Andrade, 4, says he supports "a lot of teams", but he was all over Brazil against Croatia. Elen da Silva, 5, had been rehearsing the shout since 4 p.m. All of them are patients with cancer and have taken a break from the treatment routine to watch the Brazilian squad opening at the Cup.
The children come from various parts of the country and are hosted at Sara Foundation , shelter home for children and teens with cancer. On this Thursday, yellow and green balloons and flags embellished the room. The children got whistles, popcorn and soda to watch the match.
And nobody could complain about lack of enthusiasm! At each Brazilian goal, the room transformed into bleachers with whistles and shouts. "World Cup is celebration", has summoned little Roberta Alencar da Silva, 7. Bald and wearing the national squad's jersey and a Holy Mary medallion around her neck, she couldn't be more excited about Neymar's two goals. He's her favourite.
From his house's balcony, Luis Carlos Batista, 16, who recently got a marrow transplant, has watched the match, approved the team and showed optimism. "It will get better and better at each match", he said. Just before the match started, Luis had bet on a 3 to 1 score.
The entity's psychologist, Evelyni Machado, says these moments are important for the kids. "They get really focused on the treatment and everything that makes a break in this routine lightens a bit the process. The Cup atmosphere is really nice", she explained.
Volunteer Jean Gilbert went with three of his five kids to the Foundation to watch the match. "It was one of the boys idea and I loved watching the match here", he said.
Sara Foundation has units at Belo Horizonte and Montes Claros, where they offer housing, feeding, social and psychological assistency for free to children and adolescents who are going through cancer treatment. The houses are maintained with donations, both of money and of products, and with volunteers who work at the place.
Translated by Raquel Sodré