Brazil fights back from being down 1-0 and wins match over Croatia
Neymar scored two goals and Oscar hit the third on the final moments of the duel
iG Minas Gerais | Thiago Nogueira |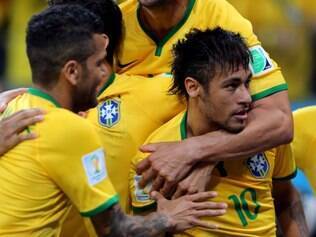 Expectations were high, lots of pressure, loads of euphoria. The Cup has returned to football's home country. It was inadmissible going wrong. Phew! Even not repeating the kind of football that made them champions of the Confederations Cup last year, the Brazilian squad transformed fear into success and beat Croatia 3 to 1 after being down 1-0, at Itaquerão, in São Paulo.
Brazil World Cup opening has gone down in the country's history. Due to the emotion, to the disagreements, to the passion. Again, all the Brazilian pride has been shouted loudly by both supporters and players, a demonstration of complete reciprocity even with so tough criticism against public unnecessary expenditures.
You could look anywhere at the bleachers and you wouldn't find a single Brazilian who didn't have tears in their eyes or that were holding their emotions. But what really counts is the game at play, game that returned to Brazil on a World Cup after 64 years.
Normal anxiety of a premiere not only surprised Brazil, but also penalized it with a goal right at the beginning of the match. Marcelo scored an own after a clear lack of attention together with some bad luck. They needed some time.
Oscar had already hit a great kick for big Pletikosa's defense. But the World Cup was taking too long to start for Brazil. Neymar was eager to the ball - even excessively - hence him leaving his arm onto Modric and getting a yellow card.
As is expected from the Brazilian talents, the N10 found the left corner to equilibrate the score and alleviate the pressure. Phew! That's it. That's how it's done.
Confidence renewed, Felipão's team started cornering the opponent but still wasn't finding a clear opportunity. The hope of a turning point had been reserved for second half.
Fred and Hulk weren't at a good night. Oscar presented himself engaged, but nothing more. Felipão had to look for something else. First option was Hernanes, most used replacement player at Confederations. Little Bernard also got in.
It was a tough match. But who would have guessed Japanese referee Yuichi Nishimura - who had cancelled a goal by Robinho at the elimination to Holland, in 2010 - would "find" a penalty over Fred. Neymar, already one of the higher scorer candidates of the championship, put the ball in the right place.
How the winning goal was scored also reminded the goal over Turkey at Brazilian opening match at the campaign that took them to the fifth title, in 2002.
What a relief! So, relieving the weight from their shoulders, the squad led the rest of the match. Got some big frights, but Oscar would still make himself noticed at the end of the match scoring the last goal.
RECORD
Brazil 3 x 1 Croatia Reason: First round of Group A at 2014 World Cup Stadium: Itaquerão, San Paolo Referee: Yuichi Nishimura (JAP) Goals: Neymar (2) and Oscar (Brazil); Marcelo (own goal) (Croatia) Yellow cards: Neymar and Luiz Gustavo (Brazil); Corlunka and Lovren (Croatia) Public: 62.103 supporters
Brazil: Julio Cesar, Daniel Alves, Thiago Silva, David Luiz and Marcelo; Luiz Gustavo, Paulinho (Hernanes), Hulk (Bernard) and Oscar; Neymar (Ramires) and Fred. Coach: Luiz Felipe Scolari
Croatia: Pletikosa, Srna, Corluka, Lovren and Vrsaljko, Kovacic (Brozovic), Rakitic, Modric and Perisic; Olic and Jelavic (Rebic). Coach: Niko Kovac
PERFORMANCES
Julio Cesar – Fierce defenses when required - Goog Daniel Alves – Defensively disoriented - Regular Thiago Silva – Centred and hearty - Good David Luiz – A defense tiger - Good Marcelo – Diligent; didn't sink in with the goal - Good Luiz Gustavo – Ran and scored adversary players everywhere - Good Paulinho – Didn't help defense and attack connection - Regular (Hernanes) – Helped organizing the middle - Good Hulk – Has hidden from the game - Bad (Bernard) – Fast in passing the ball - Good Oscar – Participative, helped scoring the opponents - Good Neymar – Has delivered what is expected from him - Good (Ramires) – Has recovered scoring - Good Fred – Has shown up little; has forced a penalty - Regular