Employees are prohibited to play fans to Argentinians at C. do Gal
Determination makes staff working at the training centre to focus only to routine work and stay away from great world football aces
iG Minas Gerais | FELIPE RIBEIRO |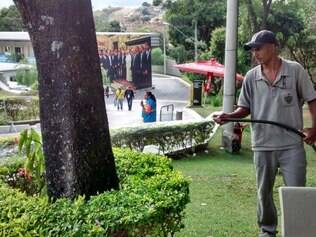 No autographs, no workout pictures, no selfies. Those who are working at Cidade do Galo during the Argentinian stay at the training centre must dedicate exclusively to their day to day work and forget about the great world football aces around.
All the employees of the training centre have been prohibited of having any closer contact to the players. The determination aims keeping the athletes' privacy and putting away any euphoria during the preparation to the championship.
Gardener Leandro de Assis works at the centre for four months now and is already used to having famous players walking everywhere in the place. Ronaldinho, Jô, Victor and Réver are some of them. To the black-and-white Atlético players access is easier. To Messi & co. it's a different situation. "We have been communicated that we cannot take pictures, or ask for autographs to the Argentinians. It's ok by me, because I am a more discreet person, I just keep focus to my work anyway. Some others, however, keep taking pictures with Ronaldinho at Galo's (Atlético's nickname) workouts, but not me", he declared.
Translated by Raquel Sodré