Supporters and R10 doppelganger invade field after Argentina workout
Boy started invasion by jumping over the glass wall that separates seats from field; watch the video
iG Minas Gerais | Felipe Ribeiro |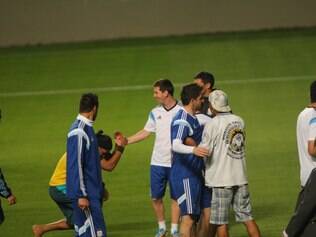 After the training session, when Argentinian players greeted the fans and walked towards the dressing room, a big field invasion was held by supporters at Independência stadium.
One of the supporters was a Ronaldinho Gaúcho doppelganger, who wore an Atlético Mineiro jersey and attracted attention of the "hermanos" because of his strong resemblance with Brazilian ace.
The player's double has sprinted, dribbled security people and managed to meet Lionel Messi. The Argentinian showed surprise at first, but soon burst into laughters. Messi even gave a jersey to one of the invading fans as a gift.
It all started because of a little boy who wore the Argentinian jersey and has dribbled two security people to hug one of the players before he got blocked. After that, many people started jumping over the glass wall that separates the seats from the field.
The Argentinian players have been touched by the fans and reacted calmly to the invasion. Soon, all of them were inside the dressing rooms with no harm.
The crowd watching the workout has divided itself into cheers and boos for the adventurous ones who tried to break into the security block. Security people were easily outnumbered by the fans at the stadium.
In order to ease the situation and give the place a good atmosphere, the Argentinian staff started kicking balls to the public, granted to them as gifts.
Translated by Raquel Sodré