World Cup it is
Brazil and Croatia open the world championship, which has the Yellow Canary squad pressed for playing at home
iG Minas Gerais | Thiago Nogueira |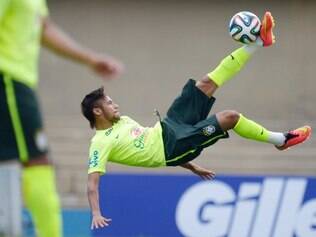 São Paulo. "Ready". "Ready". It was on a one-two game that coach Felipão and forward Neymar synthesized the Brazilian squad conditions to the so awaited premiere at World Cup in Brazil, this Thursday, at 5 p.m, at the tournament's opening in Itaquerão, against Croatia. The commander of the national squad and the man who is supposed to push the team are the stakeholders of the Yellow Canaries.
Mixing coolness and anxiety, both of them tried to explain what is going on at this moment. "It's time and we are all going together. It's our world championship", decreted the coach. "I am prepared to help my mates, I don't play alone. There are 11 of us on the field and everyone knows their part", ponders the N10.
When the coach says they are ready, this is the squad: Julio Cesar, Daniel Alves, Thiago Silva, David Luiz e Marcelo; Luiz Gustavo, Paulinho e Oscar; Hulk, Neymar e Fred, the 61 thousand people in the stadium and other 200 million Brazilians throughout the whole country. Supporters, by the way, are people who, in their majority, don't know what it is to live a World Cup in their home country. "We have high expectations on the supporters. They are the main player. Playing at home, delivering 100%, it will be hard beating the Brazilian squad", predicts Neymar, who has already renounced the higher scorer title if iti gets them to the sixth Brazilian title.
Movie. At Brazil's last victorious campaign, when it has won its fifth title, in 2002, Neymar was nothing but a dreamer. Aged 10, he watched on the TV Felipão's team passing on to history. What used to be a dream, nowadays he stars. "I remember I had my hairstyle just like Ronaldo's (Monica's Gang Smudge style). I would support the squad and went to my grandmother's house to celebrate the victory", tells the boy who is now 22 and competes against Messi and Cristiano Ronaldo for the spotlights of the competition.
So Felipão has changed. He is less anxious and with greyer hair. Side by side to Carlos Alberto Parreira, commander of 1994 title, and to his sidekick Murtosa, Scolari said: "This and 2002 squads are, collectively, similar. There is a lot of dedication. They are players who are able to modify the tactic formation to bring in some help. 2002 team did that. In 2014, some players do different things. Neymar is one who, in certain moments, helps scoring adversary players".
Translated by Raquel Sodré