World Cup opening will exult nature, people and football
For artistical director, the event will be an opportunity to show Brazilian culture, music and history
iG Minas Gerais | O Tempo |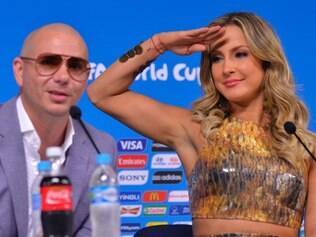 Before the ball rolls down Itaquerão stadium's field this Thursday, the World Cup's opening ceremony will show a part of Brazil to the world. The event starts precisely at 3:15 p.m. and is scheduled to last 25 minutes.
Six hundred volunteers are going to participate in the presentation, which is based on three Brazilian treasures: its nature, its people and football. For the artistic director of the ceremony, Daphné Cornez, this will be a unique opportunity to show the country's culture, music and history.
Some scenarios, symbols of Brazil, will be represented, like Amazonian rivers, waterlily and "araucaria". At the dance part, there will be a place for "frevo" , "samba de roda" and "capoeira", for example. The art of football will be represented by a man-ball and by 32 children who are going to represent the squads participating in the tournament.
"We are going to find samba and Carnival's rhythm at the musical composition. But I would like to say I can't do Carnival better than the Brazilians. I have preferred to focus on the concept and let Carnival to the Brazilians", explained Cornez, who is French.
Brazilianity
The opening ceremony will also present the Cup's theme. "We Are One" will be interpreted by Pitbull, Claudia Leitte and Olodum. On Wednesday (11), the artists have been questioned about the song, which is mainly sung in English.
"Olodum is universal. We look for unity. It's seven billion people united for sport, music, peace and against racism. We have thought of the artistic collage. We are afro-latin-americans", defended João Jorge Santos Rodrigues, from the percussion group. "I am really honored and grateful for participating in this moment", said Claudia Leitte. "It´s billions of people, we are all one", highlighted Pitbull.
Translated by Raquel Sodré