Open Uruguayan workout attracts great public to Arena do Jacaré
La Celeste has made its first open workout at Sete Lagoas stadium, where 5.000 fans were watching
iG Minas Gerais | Antônio Anderson |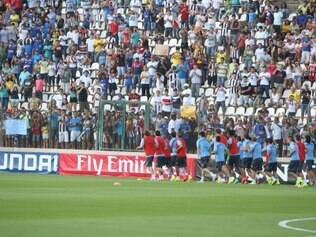 The open workout of Uruguayan squad took a great number of supporters, mainly children, to Arena do Jacaré stadium, in Sete Lagoas, on this Tuesday afternoon. The players entry onto the field was marked by cheers, to which the athletes have responded waving to the fans present to the training.
"Gosh, how good looking and nice are these Uruguayans. They already have my support at the Cup, as long as they don't face Brazil", said student Marcela Aparecida, aged 16.
Wearing Peñarol jersey, Marcos Fernando, 14, told us he was happy to see his idol, defender Lugano, who has already played for São Paulo football team, so close to him. "Excellent player. He's going to do great at the Cup", said the boy.
After a warm up jogging, Uruguayan players have done a ball training. Forward Luiz Suárez, who is recovering from an injury at his left knee, has done some work with a ball, besides having taken some jogging.
"Suárez is the biggest name in this squad. I hope he will get well soon and can dispute the World Cup", declared salesman Carlos Alberto Rude, 52.
According to the organizers of the event, around 5.000 people were at Arena do Jacaré to follow La Celeste's activities. The squad is going to come out at the World Cup next Saturday, in Fortaleza, against Costa Rica.
Translated by Raquel Sodré