Finals against Argentina is almost unanimity amongst Brazilian squad
After coach Felipão and assistant Parreira revealed their plans, players also declared they would like to be champions over the "hermanos"
iG Minas Gerais | O Tempo |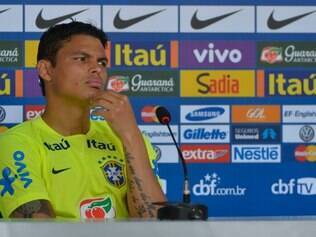 The desire to face Argentina in this World Cup finals - starring one of the biggest classic matches of world football - seems unanimous inside the Brazilian squad. After technical coordinator Carlos Alberto Parreira and coach Felipão have admitted their preference, defenders Thiago Silva and Daniel Alves also revealed their will to conquer the sixth title over the biggest foe of the Brazilian team.
Barcelona's player dreams about a victory over the "hermanos" - something that really sounds like a dream for any Brazilian player: being world champion in their own country winning over Argentina. "If I could choose, I would like a Brazil vs Argentina because of the classic it is and because of both squads histories. It would be a pretty nice match. Winning a Cup against such a big foe would be special", he declared, adding that he has already warned his Barcelona colleague, Messi, to wait for him at Maracanã, stage of the big finals. Thiago Silva agreed with Daniel Alves, summarizing that the decision between Brazilians and Argentinians is awaited not only for being a big classic.
On the contrary of many who forebode their rivals, coach Scolari guaranteed that he doesn't wish Argentina to go wrong right on the first phase of the tournament. Instead, he wishes they may put into practice all their quality. That being said, Felipão's prediction is of an inevitable final between the South-Americans.
Last year, when in front of Pope Francis - Argentinian and big football fan - Parreira has joked that he would pray for both squads to duel at the World Cup finals.
Translated by Raquel Sodré