Historical cities hope that World Cup tourists will want to know some
Hotels also bet on Valentines' Day, celebrated in Brazil on the 12th of June
iG Minas Gerais | Thaís Pimentel |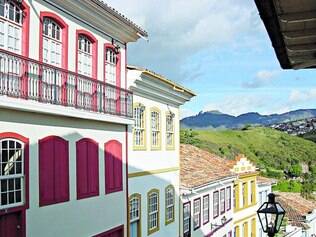 Historical cities around Belo Horizonte intend to take some benefit from the awaited "invasion" of tourists during the World Cup. More than 390 thousand people are expected to watch the matches at Mineirão. When a part of them decide to know a bit more about Minas Gerais, that's going to be the moment in which not only business in the capital will make some extra profit, but also the ones in the surroundings.
"We are expecting to receive at last 50% of the visitants that go to the capital". That's the bet of tourism and culture secretary of Mariana (hiperlinkar para site da cidade de Mariana: http://www.mariana.org.br/) city, Antônio Delfonso. Mariana is 115 km away from Belo Horizonte and is one of the most important cities in Minas Gerais for the historical context of the country.
However, there is no indication that hotels and inns in town will host these guests in June. "We are prepared, but because of the proximity to the capital we don't know if tourists are going to opt to stay here. No business has yet informed if these past weeks demands are because of the Cup. Sure thing is hotels are going to get crowded because of Corpus Christi holliday (celebrated on the 19th of June)", said the secretary.
In Ouro Preto , 96 km from the capital and 13 km from Mariana, expectations are that occupation gets to 60% on June - 16% more than registered in the same period last year. The city, along with the districts of Lavras Novas, Cachoeira do Campo and Santo Antônio do Leite, holds a total of more than a hundred hotels and inns.
"For now, it's been a scarce search. We hope that it might just go better now, but I must confess I was expecting for more", reveals the president of Brazilian Association of Gold Circuit Hotels Industry (ABIH), Antônio Santos. Rates vary from R$ 75 (approx. US$ 33) to R$ 546 (approx. US$ 243).
At Tiradentes, 188 km from Belo Horizonte, hotel sector doesn't expect that the World Cup will influence the flow in June. "It's been a good season. We expect all our rooms to be occupied over the weekends. That's because of the winter and of Valentines' Day", said a worker of Três Portas inn. The anticipation of winter school break, however, is not a good omen for some of the businesses.
"Reservations have been few. As the break is going to be from the 12th of June to the 13th of July, it got tough for us", revealed the receptionist of Mãe d'Água inn, Simone Nascimento. At Tiradentes, most of the inns charge for the weekend (check in on Friday and check out on Sunday). Rates vary from R$ 230 (approx. US$ 102) to R$ 680 (approx. US$ 302).
People in Tiradentes' neighbour town São João Del Rey also don't believe that the World Cup will make all the 51 city hotels to be completely full. "What we are waiting for is the annual motorcycles meeting that is held at the end of June. We are already full for that period", said Aparecida Mosqueira, receptionist at Colonial hotel.
At Congonhas, city that hosts the 12 prophets sculpted by famous Brazilian artist Aleijadinho and is 81 km away from the capital, the ten hotels and inns of the city probably won't make any extra profit coming from the football competition. "We won't get any left overs (from the capital or other cities). I find it hard for the tourist to come and stay here. For me, it's worse than last year", regretted Raimundo Miranda, manager of Colina hotel.
Expectations
Hotel sector of Ouro Preto expects that hotels and inns occupation rates get to 60% in June. In the same period last year, the rate was of 44%.
Translated by Raquel Sodré