Composer taxi driver in World Cup ballad
Zantôni has created a song for each State that will host championship's matches and has recorded an album, sold inside his taxi
iG Minas Gerais | Daniel Otoni |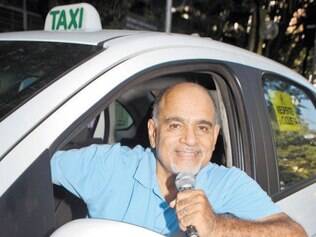 Taxi driver José Antônio de Souza may be considered a "folkloric figure", starting by his nickname. From the "z" in his surname and the typical pronunciation of his compound name for those who live in Minas Gerais, he didn't have a second thought before naming himself "Zantôni". "There are loads of José Antônios out there. I had to think of a way to have a name that was different from the others", he explained.
The driver, aged 73, is also a singer and a composer. He has created a total of 12 songs, one for each State to host World Cup matches. They are all in an album that was recorded with the help of some musician friends.
The lyrics bring touristic and historical references of each place, like Estrada Real - old road that links Minas Gerais to Rio de Janeiro and which used to be the route of gold mining back in the 17th century - in Minas Gerais and Chapada dos Guimarães in Mato Grosso do Sul. "It has been a tough work of research that lasted two years. During this time, I have elaborated songs, putting on some rhythm and recording them. I have looked up many tourism magazines to know some of the most famous places in each State. I don't criticize the World Cup in my songs. On the contrary, I praise it", he indicates.
Zantôni, who has made all the investment to the record himself, is charismatic, and that has given him a very special gift: an encyclopaedia, given to him by one of his customers. "This book has helped me a lot in better knowing the cities and the States. It has been an important collaboration to my research", he says.
The record is sold daily during the taxi rides, but it can also be bought online at Zantôni's website: www.taxistaescritor.blogspot.com (inserir link para o site dele). The site also broadcasts videos that show the songs being played with illustrative images of each place mentioned in the songs.
Artist. Before releasing his newest work, the artist had already composed more than 80 songs about Minas Gerais State. Even not knowing the State as he would like, he was able to present some "mineira" attractions in his songs. "Unfortunately, I was resourceless to travel and know in person everything that I write about in my songs. My trips are more theoretical than practical", he jokes.
As soon as a passenger gets into his taxi, Zantôni doesn't waste time and soon introduces them to his authorial work. The product was created by five musicians, all of them paid by the composer driver the way he could do it. One of them, by the way, is responsible for helping him post and maintain the blog.
Best seller complements income
In five months of daily attempts, Zantôni already sold 460 of the 500 CDs that were produced. Each of them costs R$ 15 (aprox. US$ 6,70), and total sales represent an important boost to his monthly income. "I always ask people if I may show them my work. Some people don't like it", he says. Even before the Cup starts, his supplies must finish, proving public interest for something so different and peculiar.
Besides the World Cup record, which may be considered his biggest hit, inspiration has already given him five other CDs. And he already has songs for two more albums. Among the creations that have given him biggest pleasure, lie the hommage to Mato Grosso and Bahia States. "The rhythm of those songs is really good", he brags. Married and father of two children, he hopes to get some company's support to help him publicizing his artistic work.
Translated by Raquel Sodré