The priceless reward of working for free
Around 14 thousand people have been prepared by Fifa to work in the 12 host cities during the world football championship
iG Minas Gerais | Lohanna Lima |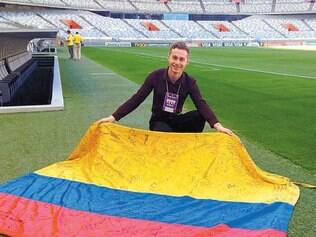 The success of a World Cup depends on a number of factors, which vary from organization to the show itself. Seen as a common practice in big events, voluntary service will also be used in Brazil. Around 14 thousand people have been prepared by Fifa to work in all 12 host cities. In Belo Horizonte, there are going to be 11 hundred. Trained by Voluntary Brazil, program created by federal administration, 7.000 volunteers are now able to work at the championship, and expectations are that 800 of them will work in Minas Gerais' capital.
North-american Karl Whitemarsh, who is 23, is living for the second time in Belo Horizonte, city he has chosen for an exchange program in 2011 and 2012. The experience in the capital has pleased him so much he has planned a return on a strategical period: World Cup days. During the event, he is going to be one of the volunteers who will help with the communication with foreign tourists.
Declaredly in love with the city and it's gastronomy, Karl usually says he considers himself a "mineiro (someone born in Minas Gerais) de coração (with all heart)". Graduated in language and literature at Federal University of Minas Gerais (UFMG), he will conciliate two voluntary works during the championship. Karl will be a translator at Municipal Extraordinary Secretary of World Cup and will be member of the Fan Fest staff. "I'll translate everything - mayor's speech, presentations, press material. And via Voluntary Brazil program I have managed a work place at the Fan Fest. That, for me, will be the funniest option to enjoy the matches and the best opportunity to also watch some shows", he explains.
Among all the slangs he has been learning in Belo Horizonte, such as "tipo assim" and "muito doido"*, Karl tells us a bit of his relationship with the city and with football. "It's one of the few sports I can follow and which I like a lot. I love the food in Belo Horizonte and I am wait anxiously for lunch time everyday", he confesses in between laughs.
If, on one hand, some Brazilians show some pessimism towards the realization of the Cup, on the other hand, the visitor has a pretty different point of view over the event. "The realization of the World Cup is quite polemic over here, but I think it's a good chance for Brazil to show the world its best. The country has plenty of good things and they must be shared", says Karl.
Opportunity
Meeting different people, training the Spanish language and participating in the organization of a world championship. These reasons were enough for official Geralda Marques, 58, to enrol herself into the program that was recruiting volunteers for the World Cup. She planned her vacations ahead just to be able to participate in the whole process, from the training to the actual work at the Cup. "I was really curious to see how the organization and the indirect participation work", she reveals.
Supported by her kids, Geralda says she doesn't bother with some criticism she has been taking for having chosen to work voluntarily during the games. "People always say the same thing: they say I'm crazy to work for free for Brazil, but I don't see things this way. I am going to work around Mineirão and at the Fan Fest. There'll be lots of tourists and a big mix of cultures, and I want to be part of that", declares Geralda.
* Translator notes:
"Tipo assim" is a slang similar to "like" in American English. Such as "I don't care that people say, like, that I'm working for free".
"Muito doido" stands for "wicked". As in "The party last Saturday was wicked!"
Translated by Raquel Sodré