Tested and retested, Mineirão is ready
Prepared. No other word best describes Mineirão stadium when it comes to receiving World Cup's matches that are scheduled to Belo Horizonte
iG Minas Gerais | VICTOR MARTINS |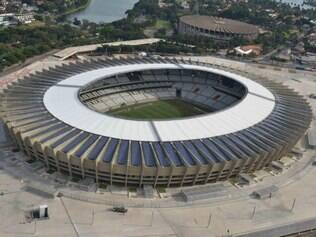 Prepared. No other word best describes Mineirão stadium when it comes to receiving World Cup's matches that are scheduled to Belo Horizonte. Among the 12 Brazilian stadiums that are going to host the 64 championship matches, none of them was more tested than Mineirão. Especially when it comes to importance, since Minas Gerais field has received three classics between the biggest two local teams, Atlético and Cruzeiro, one Libertadores Cup final, three Confederations Cup matches and important Brazilian Championship matches.
If, nowadays, Mineirão is in a great situation to host supporters from the whole world, time has been determinant for that. At the reopening match, in February 2013, Cruzeiro received Atlético with almost 53 thousand spectators. Many problems were found then by those present to the match, mainly the lack of potable water, closed bars and malfunctioning toilets.
As time passed and other matches were held there, Mineirão managed to get itself to shape. Minas Gerais supporters, especially Cruzeiro's, are already used to going to the new space, are familiar with accesses and gates numbers. Since it has been reopened, more than 1 million supporters already bought tickets to watch to some match at the stadium.
Initially predicted costs for the makeover were about R$ 426 million (US$ 189,33 million approx.). The total of expenditure, however, has achieved the sum of R$ 695 million. On the good side, is the makeover period. The stadium was reopened in December 2012, right on the expected time. Two months after remodelled, matches were already being held at the place. New Mineirão has the capacity to receive 62.329 supporters.
And public at the six World Cup matches which are going to be held there are going to be close or superior to 60 thousand people. Only one match isn't sold out. It's now only possible to buy tickets to the battle between Belgium and Algeria, scheduled to the 17th of June. The only available tickets now are for people with disabilities, at the cost of R$ 180 (US$ 80 approx.).
Translated by Raquel Sodré