Eles são brasileiros, mas jogarão 'fora de casa'
This year, 30 athletes born in Brazil have the chance of achieving this accomplishment. But, the other seven won't be feeling so at home
iG Minas Gerais | Diego Costa |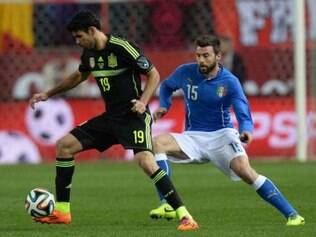 I dare to say every Brazilian boy - little or grown up - has already dreamed of being a football player and dispute a World Cup. Even more if the championship is held in their home country. This year, 30 athletes born in Brazil have the chance of achieving this accomplishment. But, on the opposite direction of the 23 players who are going to perform with the yellow Brazilian jersey, the other seven won't be feeling so at home.
The list starts with the now Spanish Diego Costa. Born in Lagarto city, in Sergipe State, Atlético de Madrid forward has played for the Brazilian squad in two friendlies, against Italy and Russia. Last year, he has frustrated the coach, Felipão, and has decided to play for the Fury. He has already performed in one match with the new squad companions, also at a friendly against Italy. The list is completed by the Brazilians who will play for other squads: Marcos Gonzáles (Chile), Pepe (Portugal), Rômulo and Thiago Motta (Italy) and Eduardo da Silva and Sammir (Croatia).
Ex player Deco, who retired at Rio de Janeiro's team Fluminense last year, is another Brazilian who left the national squad and even played World Cups for his "new country". He disputed world championships in 2006, in Germany, and in 2010, in South Africa. Born in São Bernardo do Campo city, in São Paulo State, Deco has moved early to European football.
"It was special for me, playing the Cup for Portugal. It's the country where I grew up. I moved there when I was 18, it's a country I love", said Deco, who had been capped by Brazilian coach Luiz Felipe Scolari (Felipão) in 2003 when the coach has taken Portugal's squad. Deco got his double citizenship after great seasons for Portuguese team Porto-POR.
Diego Costa's story is similar to this one. Also he has left Brazil early. After taking his chances at small national football clubs, including in Minas Gerais, his golden opportunity has appeared to him in Portugal. At the age of 17, the player went overseas. He has played for Braga and Penafiel. After that, when he was 19, he started his history in Spanish football. He has played for Celta de Vigo, Albacete, Valladolid and Rayo Vallecano. But it was with Atlético de Madrid's jersey that he has shown himself to the world and called Luiz Felipe Scolari's and also Spanish coach, Vicente del Bosque's, attention.
Diego Costa's cousin Robson Santos believes the player has taken the right decision in preferring the Spanish squad. "Nothing was planned beforehand. He had the dream to wear the yellow jersey. But what really happened was the consequence of his work and his knowhow abroad. And it's all a result of the acknowledgement that he was given in Spain", said Robson, who coordinates football school Bola de Ouro, where the forward first started his career.
Deco sees Diego Costa's situation a bit more complicated than his own. For that matter indeed his decision to play for Spain was more controversial. "In his case, the difference is that he had the big chance to play at a squad that may be world champion. He is also a center forward, an appealing one. It was a personal decision. No one has ever given him the right value and now he just had this opportunity", he said. With the Cup in Brazil, Deco also recognizes that the player must suffer some pressure from Brazilian supporters. "Of course there will be. This is a normal thing. He is a Brazilian player playing for another squad, it's natural. But I believe it won't be a problem for him", opinionated Costa.
If the player's option may cause controversy with the Brazilian supporters, the same can't be said about the forward's family and the municipality of Lagarto, players home town. "In town it's a passion. Family nowadays makes everybody support Diego's success. So, we are all going to support Spain", revealed Robson.
Translated by Raquel Sodré