Changes to receive foreign hosts
Cidade do Galo, Toca da Raposa II and Arena do Jacaré have suffered structural modifications in order to host aces like Messi, Arturo Vidal and Luis Suárez. All makeovers have been praised as a Cup legacy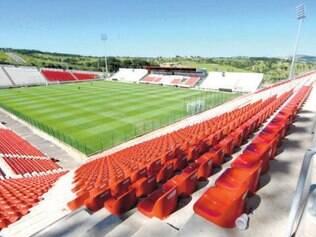 From the 5th of June on, Minas Gerais will be flooded, once and for all, by World Cup's atmosphere. The date marks the arrival of Chilean delegation to the State. Chileans are the first of three national squads who are going to use Minas Gerais as base to their World cup trainings. Jorge Sampaoli, Alexis Suárez and other Chilean aces are going to be hosts of Toca da Raposa II, original GQ of Cruzeiro football team.
Four days after that, Uruguayans and Argentinians - both two-times world champions - are going to be the ones to arrive at Confins airport to start preparation phase to the Cup. "Los hermanos" - as Argentinians are fondly called by Brazilians - will be hosted at Cidade do Galo - original home of Atlético football team - at Vespasiano, 27 km from the capital, Belo Horizonte. In the meantime, the Uruguayans, hosted at Sete Lagoas (72 km from BH), take the first steps towards the dream of a new Maracanazo (inserir link para matéria sobre documentário que fala do Maracanazo traduzida em 05/06). In this town, they will divide themselves between JN Resort and the trainings at Arena do Jacaré stadium.
Each of these places has suffered structural modifications in order to host aces like Messi, Arturo Vidal and Luis Suárez. All makeovers have been praised as a Cup legacy.
"The Chileans have asked few modifications at Toca. We also understood that some of the requests were part of our constant process of structural modernization. Toca was built 11 years ago and we knew that some things needed to be changed in order to provide more comfort to the athletes", says Cruzeiro's communications director, Guilherme Mendes.
"The presence of Uruguayan team is highly important for Sete Lagoas citizens. We are going progress in several areas, as telecommunications for example. Places that didn't have access to optic fiber and to a good internet service will benefit from that", declares the sports secretary of Sete Lagoas, César Maciel.
The same happens at Cidade do Galo. Even discarding any kind of privilege for Messi and his troupe, Atletico's team, Alexandre Kalil, has given a free pass to all requests. "Atlético won't give any special treatment. Now is what they (Argentinians) want. When you rent a house, you change the furniture the way you want it", he notes.
Investments
Although some interventions are not exactly cheap ones, the teams managers won't do without the expenses. The invested values haven't been revealed, but expectations are of an undoubted return. "The money we are investing we are surely getting back with tourists and the progress (that will come from it)", says Maciel, from Sete Lagoas.