The winner's eye
Sixty four years after the big accomplishment in Rio, a documentary directed by Bednarik and his compatriot Andrés Varela brings to the public unseen images of the match that decided the first World Cup hosted by Brazil
iG Minas Gerais | Josias Pereira |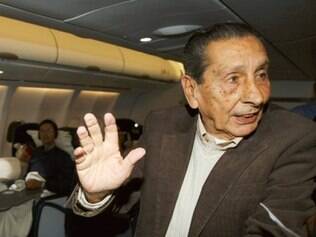 The score was even at the match. Suddenly, worries paralyzed the senses. The right wing, Ghiggia, number 7, beat the scorer and went forward. At each inch of field, hands covered the eyes. Everyone seemed to picture the ending of it. When the kick finally happened, there was nothing Barbosa could do: 2 to 1. Maracanã stadium was in silence.
This is more or less how the saddest story of Brazilian football in World Cups is told across Uruguay. A narrative just like the tale of Hansel and Gretel. And Uruguayan film maker Sebastián Bednarik doesn't make it differently. Big football fan and Nacional supporter, he grew up listening to the stories about his biggest idol, captain of two-time world champion team, Obdulio Varela. Sixty four years after the big accomplishment in Rio, a documentary directed by Bednarik and his compatriot Andrés Varela brings to the public unseen images of the match that decided the first World Cup hosted by Brazil.
Launched in May, the movie "Maracaná", recovers images that had been forgotten in our neighbour country, besides private archives in Europe and Brazil. The movie was inspired on the book "Maracaná, la Historia Secreta", written by Uruguayan journalist Atílio Garrido, and is 75 minutes long.
"This documentary is the result of a great research effort of three and a half years. Since it's premiere at the Centenário stadium, in Montevideo, we have been witnessing the public's excitement. It's been in theatres for more than ten weeks now and every time a session is closed, people applaud standing", he celebrates.
The movie also pictures the historical context in Brazil and in Uruguay during 1950's. While the first one got ready for an electoral year - as it happens again in 2014 - the other got through an unprecedented strike. "Uruguayan players had other occupations besides football. They faced a seven months strike as industry workers before heading to the Cup dispute", highlights the filmmaker.
Questioned if he believes the victorious story of the 50's may repeat itself this year, Bednarik declares that times have changed, but the games essence has never changed. "Brazil doesn't need to fear what many people call '1950's ghost'. A new Maracanazo may happen anywhere. Behind the business football has turn into, we must remember that inside the field, it's 90 minutes, 11 against 11", he concludes.
Memories. It was an 18 hours trip from Belo Horizonte to Rio. Everything improvised, having accepted a friend's - whose father was a truck driver - invitation. Any effort was valid to see the final of 1950 World Cup - even breaking into Maracanã after some trouble at the entrance gates. Having the knowledge of someone who has lived that 16th of July, the retired official Elmo Cordeiro remembers the match and takes off any blame goalkeeper Barbosa could take. For him, Brazil lacked preparation.
"The draw would have given Brazil the title, but that team got me. They were old, players almost in their thirties. Nobody talks about this, but lack of fitness was a big deal then. Uruguay's second goal was only a matter of time. Ghiggia beat the scorer half the field away from the goal and run for about 40 metres all alone, no one covered for him. Free, he chose to kick straight to the goal. The ball hit the net, Brazil didn't have the strength to react, everyone in Maracanã was in tears and São Paulo press crucified Barbosa", says Cordeiro, who was also ball boy at Independência stadium, in Belo Horizonte, during 1950's World Cup.
President of honor of América football team, Afonso Celso Raso also lived this nightmare. "That match was the biggest prove that football isn't won the day before. When Uruguay scored the second goal, grave silence took Belo Horizonte. It seemed like someone in everyone's family had died. No one could believe it", he remembers.
Translated by Raquel Sodré