Foreigners come, natives go
Political dissatisfaction, good flight ticket prices, impatience for football, school vacations knocking on the door are all good reasons for many Brazilians to escape the country during the World Cup
iG Minas Gerais | Lucas Buzatti |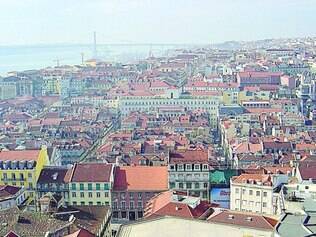 Political dissatisfaction, good flight ticket prices, impatience for football, school vacations knocking on the door are all good reasons for many Brazilians to escape the country during the World Cup. Travellers' profile goes from the lonely backpacker to whole families, who planned trips to destinations like the United States, the Caribbean and Latin America, besides Brazilian cities that are not going to host any of the championship's matches. The demand was so intense that sales tore prices of flight tickets down to 10% the original value and attractive package tour offers arose in Brazilian market.
"Our intent is to make the contrary route: they are coming and I am going", said the publicity person Lucas Moreira, 33, before he left the country with a friend for his first eurotrip. "I am going to stay abroad for about 70 days and I will visit Spain, Scandinavia, Netherlands, France, Belgium and then I am going to stay for a month in Berlin, Germany", he explained. His main reason for taking this trip was to actually escape from World Cup "madness". "I love football, but I am against the realization of the event in my country, if you look on the social point of view".
Social motivations have also influenced Túlio Araújo's decision. He is a 35 years old musician and, in June, he is going to Chile with his wife. "We are not prepared to host a World Cup. Brazil is a country with several basic problems, as health and sanitation systems", he criticized. Araújo told us he used to like football, but its present commercial character drew him away from this sport.
Personal reasons, like celebrating his fifth wedding anniversary, also took him to travel. "I have a brother who lives in Bolivia, so maybe we'll go there and also to Argentina. Travelling over South America is a really good deal, especially if you plan it ahead. A round flight ticket may cost less than R$ 1.000 (US$ 440)", he declared.
School vacations were decisive for the lawyer Leonardo Varella, 39, to plan his trip. He is going to Portugal this month with his wife and the two kids, aged 6 and 4, who are going to be on winter break at school. Varella, who is studying at a doctorate program, will benefit from the trip also taking a one month internship at the Portuguese capital city, Lisbon. "The trip came at a good time but, even if this academical matter didn't exist, we would be travelling anyway", he said.
Translated by Raquel Sodré