Supporters will have to deal with fancy prices
A 600 ml soda, for instance, that may be bought in a bakery for R$ 3,90, will cost R$ 8 at the World Cup stadiums' snack bars
iG Minas Gerais | O Tempo |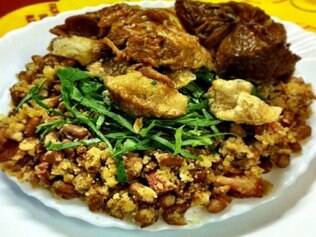 Fifa has revealed the menu that is going to be used in the stadiums and around them during the World Cup. The prices, however, show that those interested in taking a snack while they watch the matches will have to submit to values over local average. One example is a salty peanuts package, that weighs 150 gr and will cost R$ 8 (US$ 3,50). The same peanuts package on a regular market in town costs an average of US$ 2,35.
Beverages will also be sold for a value superior to the local market. A 600 ml soda, for instance, that may be bought in a bakery for R$ 3,90, will cost R$ 8 at the World Cup stadiums' snack bars. Even the mineral water will suffer the Cup's inflation: R$ 6 at Fifa commerce, while you may pay R$ 1,60 for the same bottled water in a local store. Traditional Mineirão stadium "tropeiro" - a typical dish made with beans, cassava flower, bacon, scallions and eggs - will go through a 50% readjustment and will escalate from it's regular R$ 10 price to R$ 15.
In other host cities, the same situation may be observed. A "polvilho" (cassava flour) biscuit in Rio de Janeiro can be bought today for R$ 2,25. At Maracanã stadium, it will be sold for R$ 5. Even the traditional "acarajé" - black-eyed pea balls deep fried in palm oil, usually stuffed with shrimp and vinaigrette - from Bahia has gotten more expensive on Fifa's menus, which are going to charge R$ 8 for the delicacy, while the "baianas" (native Bahia cooks) normally charge it R$ 5. The federation also informed that, for this kind of shopping, only cash and Visa credit cards - World Cup sponsor - will be accepted.
Supporters who got tickets for World Cup matches have received an electronic message with the prizes, but the same list may also be found at the federation's website: www.fifa.com.
Translated by Raquel Sodré